How User Library works
User library allows you to load the contents of a folder on disk and show them under the Premiere Composer "User Library" folder. Like this you can add your own motion graphic templates (created in After Effects), audio files, images or video files easily straight to timeline or to the project.
Premiere Composer tries to create previews for each item but there are some limitations, for example only H264 video files are supported (due to video format licensing). Read more about the supported previews below.
User Library previews
For Premiere Composer to show previews quickly, it needs to render small preview files. Once rendered it can show the previews instantly for more pleasant browsing experience. These files can be either stored in the folder you're adding to the User Library or they can be stored in a local cache.
How to choose?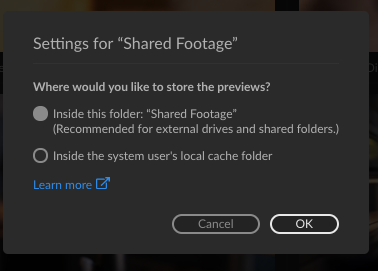 If adding a library you're expecting to be used on different computers, it's best to choose the 1st option "Inside this folder". When you choose this option Premiere Composer creates an extra folder in the chosen library folder called "_Mister Horse Previews". This folder is going to be used by Premiere Composer to store the preview files. It can be safely deleted at any time, when you no longer use it with Premiere Composer.
If you do not want Premiere Composer to store extra files in your folder, then choose the 2nd option (Inside the system user's local cache folder).
Supported preview files
Premiere Composer supports Motion Graphic Templates (.mogrt created in After Effects), common audio files and h264 video files (in .mov or .mp4 containers). It can also load images and image sequences.
Here is a full list of supported file types:
Audio: wav, mp3, mp4, m4a, aac
Image: jpg, png, gif
Video: mp4, m4v, mov (only h264)