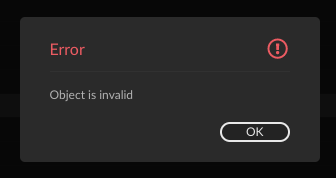 Have you encountered an error like on the image above? You're at the right place.
It seems some other extensions may be quietly turning off an important setting in Premiere. If you are using any other extension it may be a source of this interference.
To fix this you may need to make sure "ScriptLayerPPro.EnableNewWorld" and "AMEScriptLayer.EnableNewWorld" are both turned on. They have to be grey color, indicating it's a default setting.
Here is video how to check the settings (Important: You have to restart Premiere after changing this):


Note to the video: You might need to press `Fn + CMD + F12` or `Fn + Ctrl + F12` when your keyboard has audio controls instead of F keys.


Some more explanation
With the release of Premiere Pro 2020, Adobe's changed the engine which runs extensions. The new engine is code named "New World" and is turned on by default. However, it seems some extensions may have a problem with the new engine and are automatically disabling the engine. This is quite unfortunate because the old engine is no longer supported and new bugs are starting to appear as a result of reverting it.