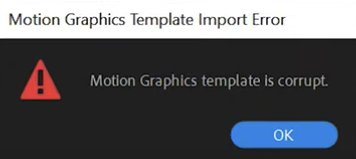 Have you encountered an error "Motion Graphic template is corrupt"? You're at the right place.
It seems that Premiere Pro might have a problem with deeply nested folders. For example:
D:\Projects\Folder\Folder....\Folder\Auto Save\Auto Save\Folder\
If your project file is nested too deep in the folder structure Premiere Pro might be unable to reach for the imported file and reports it as corrupted.
How to fix? Try to copy your project a few folders above the current folder it is in. Or you may shorten some folder names if they are too long.
If this is not the case. Please let us know.
Some explanations
The issue is related to operating system limits on the length of file path. Windows might be setup in a way to allow only certain length and then a program might fail in retrieving the file.
This may also happen only on the external drives and might be related to how the drive is formatted.