You should be able to find the Premiere Composer in the Premiere Pro menu under "Window -> "Extensions"
If you have installed Premiere Composer and it is missing in the Window menu, try the following solutions.
Possible solution 1
Reinstall Premiere Composer. Open "Mister Horse Product Manager" (use Windows Search or Mac Spotlight search). Switch to "Premiere Pro" tab and uninstall & install Premiere Composer again.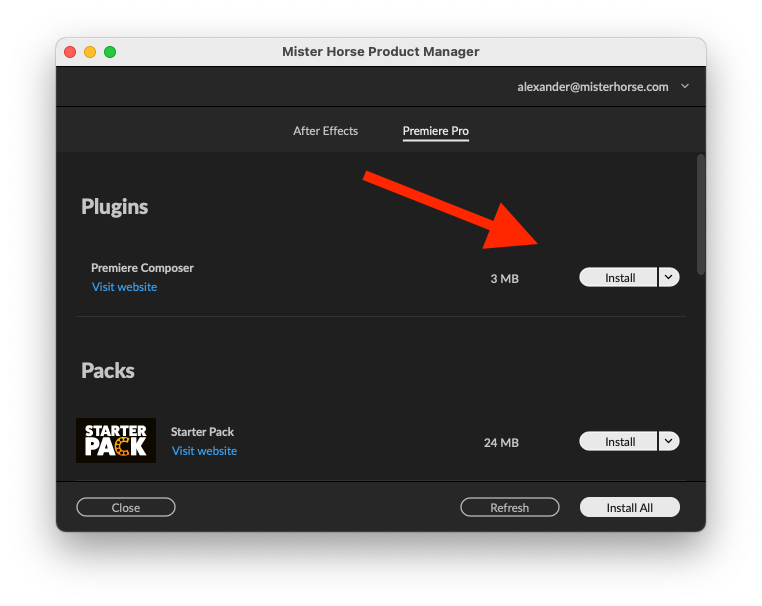 Installing the downloaded Product Manager is not enough, you have to install the plugin as well.
Possible solution 2
There is a bug in Premiere when launching it by opening a project file (i.e. double-clicking a project file on disk). Here is what you may need to do:
Close Premiere
Open Premiere again (do not launch Premiere by double-clicking a project file)
Open or create a project
Check Window-> Extensions now, is it working?
Possible solution 3
Update your operating system & Premiere Pro. Maybe you're working with a specific version of OS/Premiere that has broken extensions support.
Possible solution 4
Reinstall Premiere Pro & then reinstall Premiere Composer. It might have happened that Premiere Pro wasn't properly installed on your computer and it is not loading extensions from the correct directory. (for example just copying Premiere Pro from one computer to another might now work, you always need to install Premiere Pro the standard way)
Possible solution 5
Are you using any lesser known anti virus or a software that could be removing files? If yes, try to disable it for few minutes and install the plugin again. If this is the case, please let us know. We're contacting all anti-virus software to prevent this from happening.
What is Mister Horse Product Manager?
Mister Horse Product Manager is an application that allows you to update and download Mister Horse plugins and products. It's a central point for everything Mister Horse.
You can download it on Premiere Composer homepage (the main download button).